Do you know how to use a fire extinguisher and which type in your New Paltz home?
10/4/2019 (Permalink)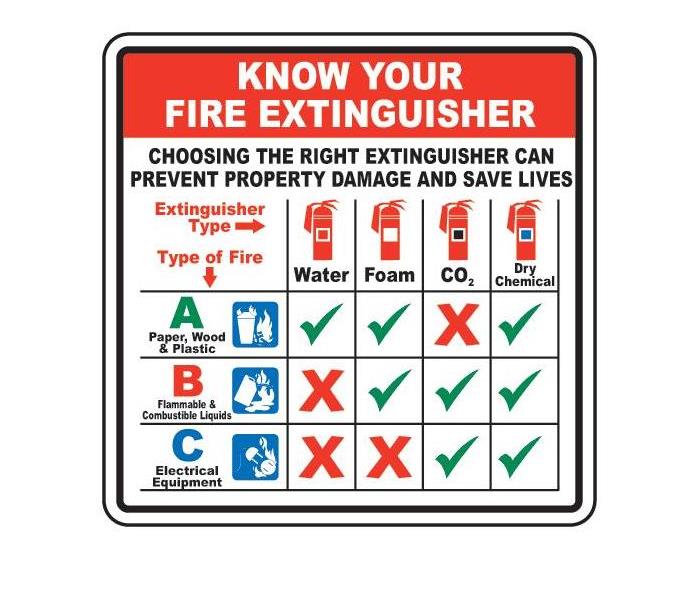 Be sure to know what type of fire extinguisher you have in your home and to learn the PASS System to use it before you have a fire!
Sure, you probably have a fire extinguisher in your kitchen, maybe even one in the garage too. A fire extinguisher can really help put out a small fire before emergency personnel arrive at your Ulster County home and can help you exit your safely.
Keep in mind though, that not every extinguisher is for every type of fire, so what type do you get?
All household fire extinguishers have the top 3 classifications: A, B or C. Some models have a combination of all three extinguishers in one. Some models are for commercial use or industrial specifications, classified as D or K extinguishers.

-A is for ordinary combustibles like trash, wood and paper
-B is for liquids & grease (think more like stove-top fires)
-C is for electrical equipment
A good note to remember, according to the National Fire Protection Association, each floor of your home should have an extinguisher.
How do you use a fire extinguisher?

To use the extinguisher properly, you want to use the PASS method:

-Pull the pin. Hold the nozzle pointing away from you and release the locking mechanism.
-Aim low. Point the extinguisher at the base of the fire instead of at the flames themselves. Standing at least 6 feet away from the fire is important! Do not touch the plastic discharge horn on a CO2 extinguisher as it gets super cold and may damage your skin.
-Squeeze the lever slowly and evenly while keeping the extinguisher upright.
-Sweep the nozzle from side-to-side until the extinguisher runs dry.
Always read the instructions on the fire extinguisher and get familiar before a fire breaks out. Remember, extinguishers do have limitations so make sure you have the correct extinguisher for your home and type of fire. Do not assume anything when it comes to fires!

Whenever you use an extinguisher, whether you ran it dry or used it briefly, it's important to replace it or refill it right away. This is also the rule for any gauge that goes down to the red zone over time.

SERVPRO of Kingston/New Paltz has the trained experts in the industry of fire damage remediation. If you experience fire damage in your home, don't hesitate to call us, 24/7 for emergencies. We're here to help and will make it Like it never even happened.